IN THE NEWS
Cong. Martha McSally, Jim Bennett, Tracy Jones, Mike Klein & Patty Chesebrough
Jim Bennett, Congresswoman Kysten Sinema, Patricia Chesebrough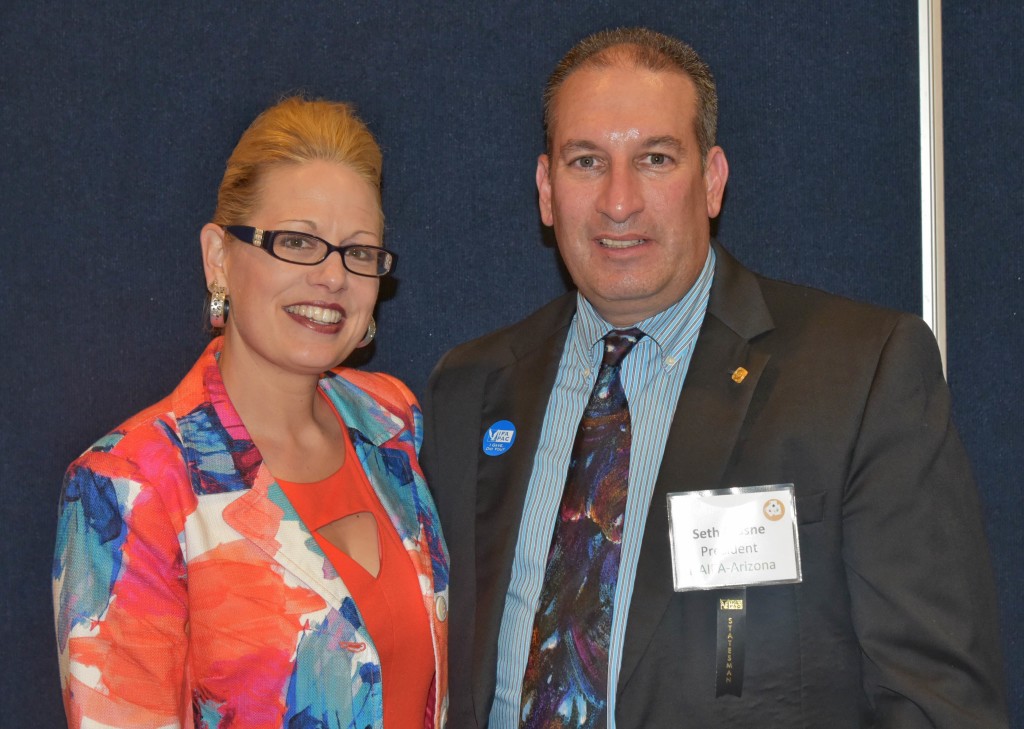 Congresswoman Kyrsten Sinema and Seth Krasne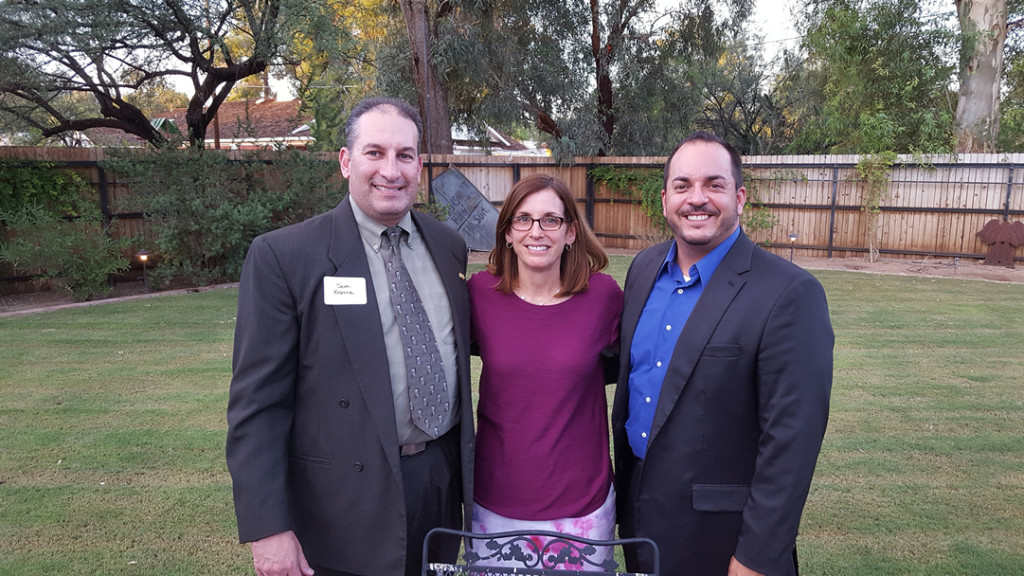 Left to right Seth Krasne, NAIFA-Arizona President Congresswoman McSally Chaz Elsten, NAIFA-Tucson President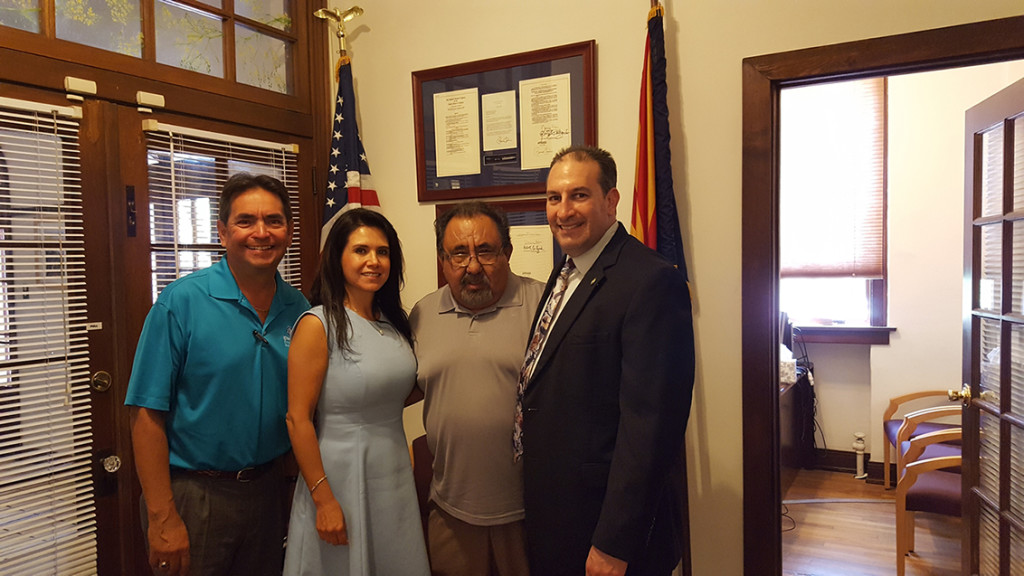 Left to right: Michael Sandoval, CLU, ChFC – NAIFA-Arizona Past President and current Treasurer. Staff Aide. Congressman Grijalva. Seth Krasne, LUTCF, CLTC, NAIFA-Arizona President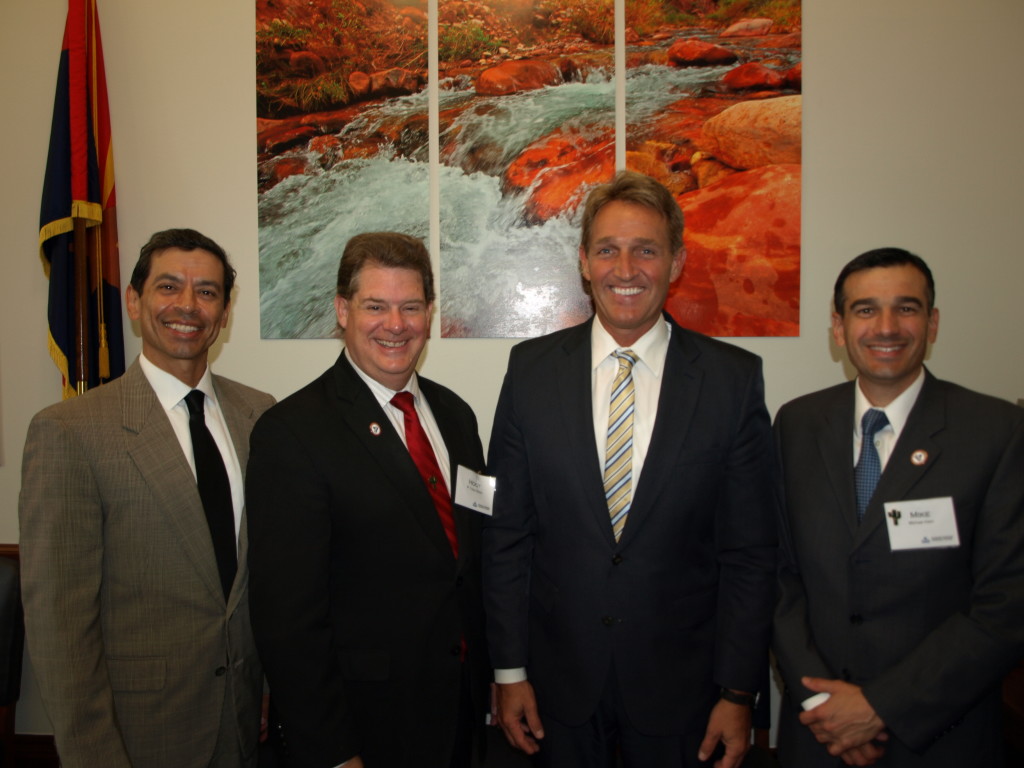 Carmelo Alvarez, 'Hoot' Gibson, Senator Jeff Flake, Michael Klein
NAIFA-Arizona Executive Committee Planning Retreat, Tubac, Arizona – February 2016
Capitol Hill Day – January 27, 2016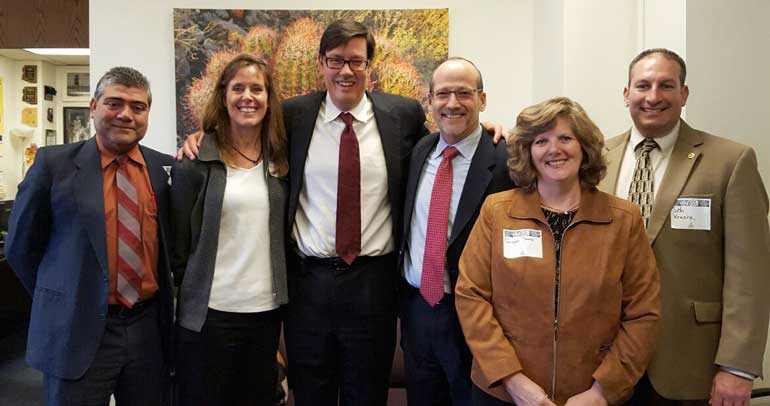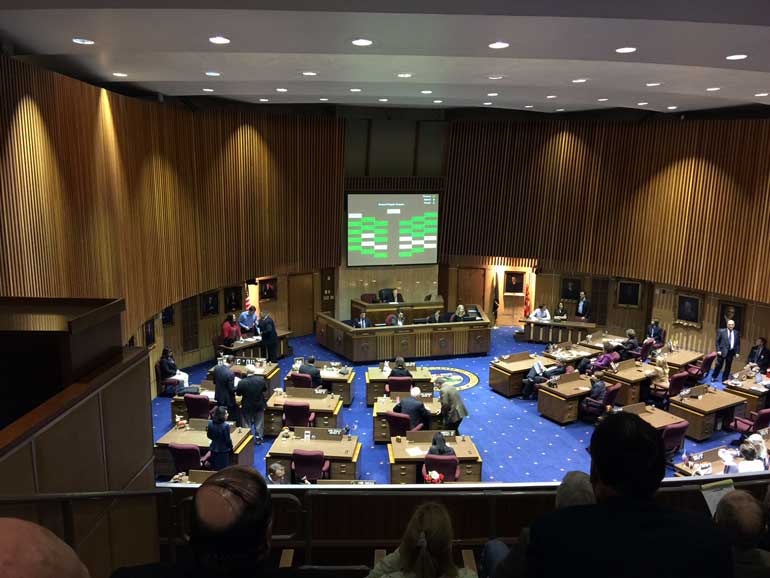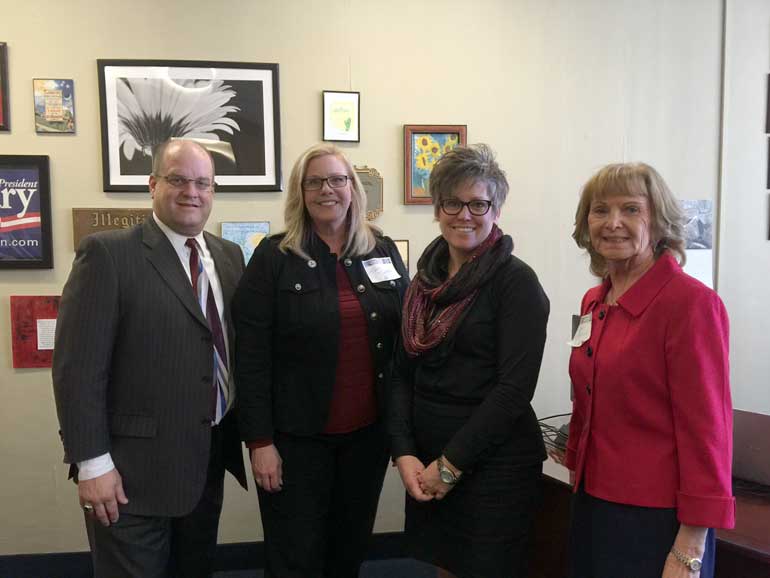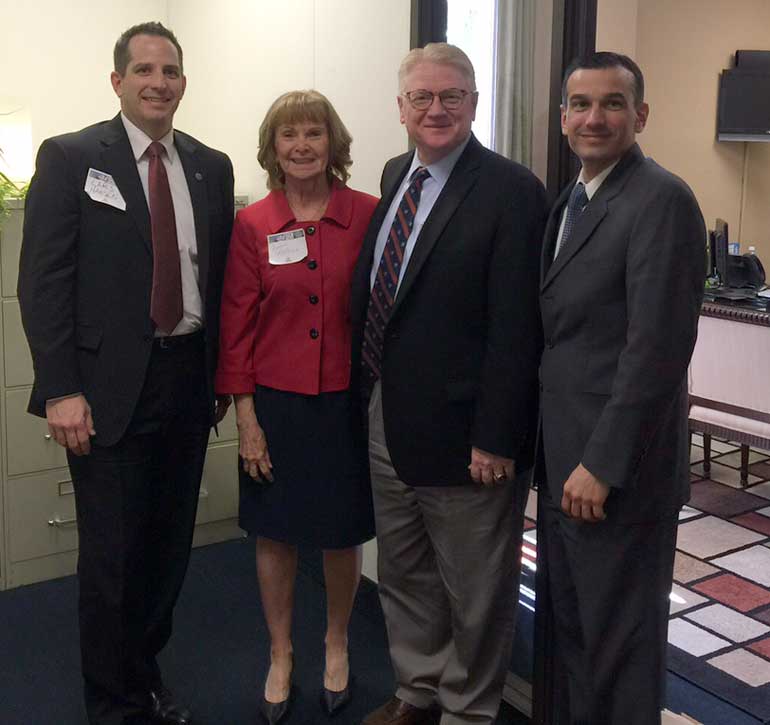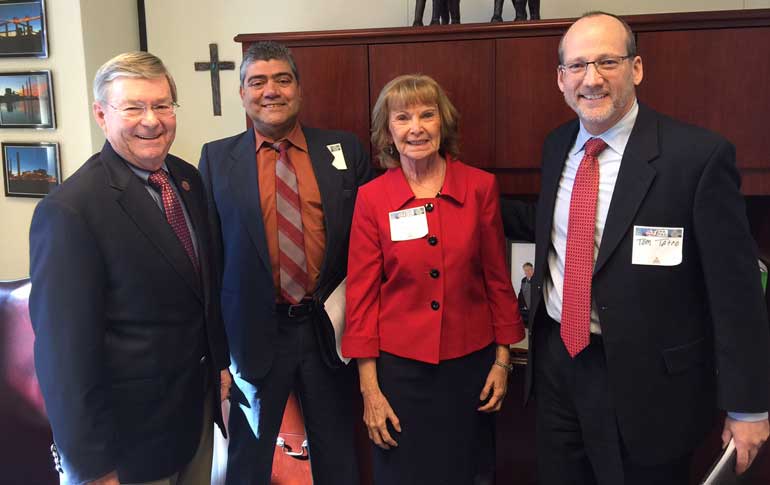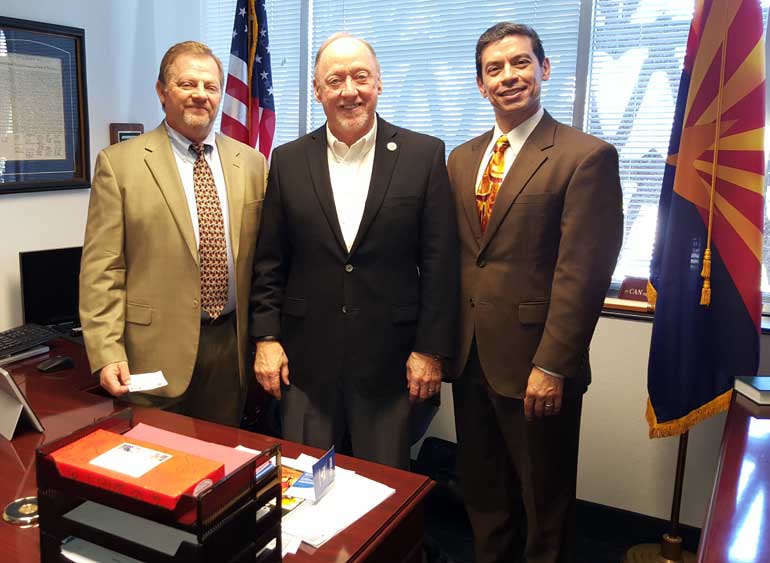 December 14, 2015
November 23, 2015
November 2, 2015
October 15, 2015
October 8, 2015
Click for full PDF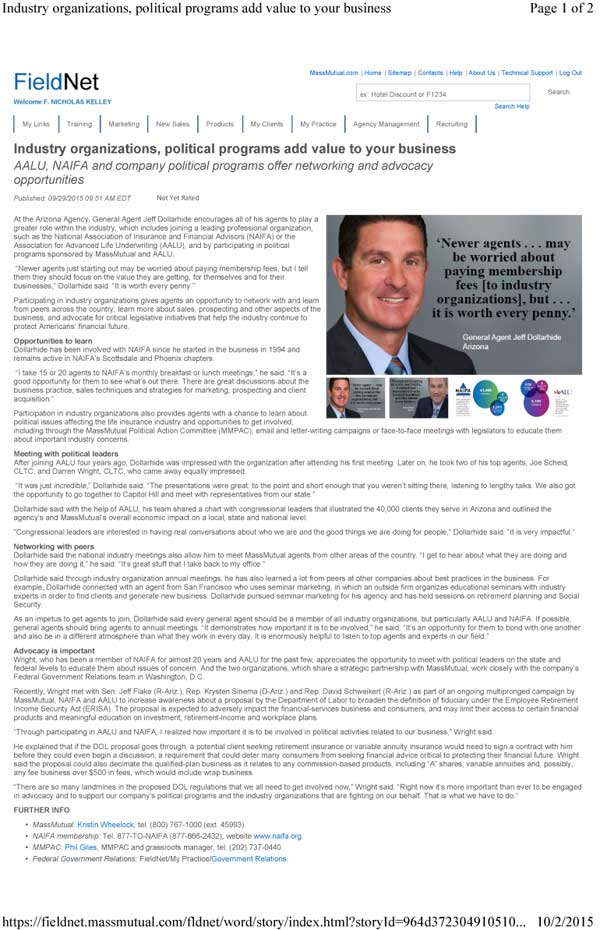 September 9, 2015 NAIFA-Arizona is pleased to announce that the 2014/15 Arizona Association of the Year was awarded to NAIFA-Scottsdale!  Barry A. Cook, CLU, ChFC, NAIFA-Scottsdale 2014/15 President, was presented the award during the NAIFA-Arizona 'Area Leadership Conference' on August 14, 2015.  This award is given to the local association, in Arizona, that has demonstrated overall achievement during the most recent association year!  Congratulations, Scottsdale! NAIFA-Arizona is also pleased to announce that the association that excelled in Community Service activity in 2014/15 was NAIFA-East Valley!  Lars Hansen, LUTCF accepted the award on behalf of Donna Kohlhase, CLU, ChFC, CASL, NAIFA-East Valley 2014/15 President, during the NAIFA-Arizona Area Leadership Conference on August 14, 2015. NAIFA-Arizona is proud to announce that NAIFA-Arizona, under the leadership of Michael A. Sandoval, CLU, ChFC, NAIFA-Arizona 2014/15 President, is the recipient of the highest level Platinum NAIFA National Jack E. Bobo Award of Excellence.  This award is based on the critical components identified as crucial to strengthening the NAIFA federation and increasing membership.  NAIFA-Arizona is one of only four states in the country to qualify for this Platinum Status.  This is the third year in succession! The award is named in honor of Jack E. Bobo, CLU, FLMI, who proudly served NAIFA as National President and Executive Vice President.  Jack Bobo, CLU is also recipient of the prestigious John Newton Russell Award.  Appropriately, the achievement award recognizes associations and their leaders who excel in all facets of association management including Advocacy, Governance, Membership, Programming and Professional Development. The Platinum category places NAIFA-Arizona in the position of having well exceeded expectations and having met/exceeded 100% of national goal. Please congratulate Mike Sandoval, 2014/15 NAIFA-Arizona President, for leading the association toward this important achievement this past year.   June 18, 2015
March 12, 2015
March 6, 2015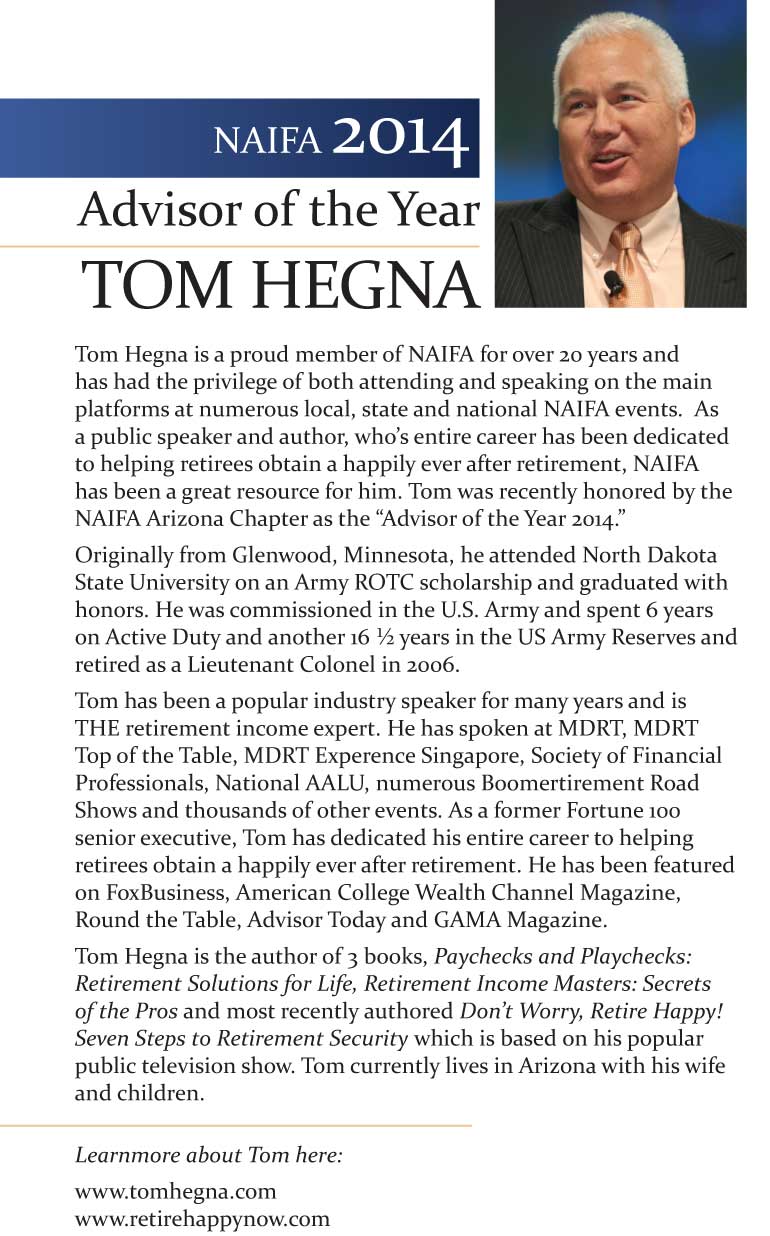 November 24, 2014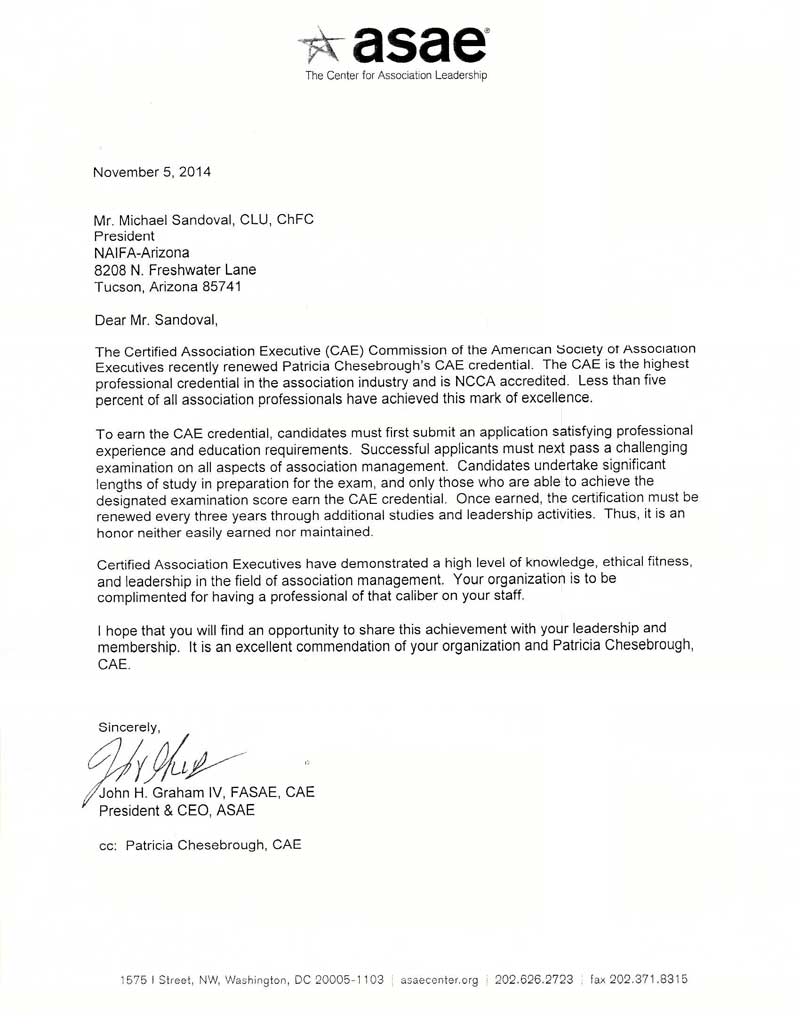 Click on the below for more info: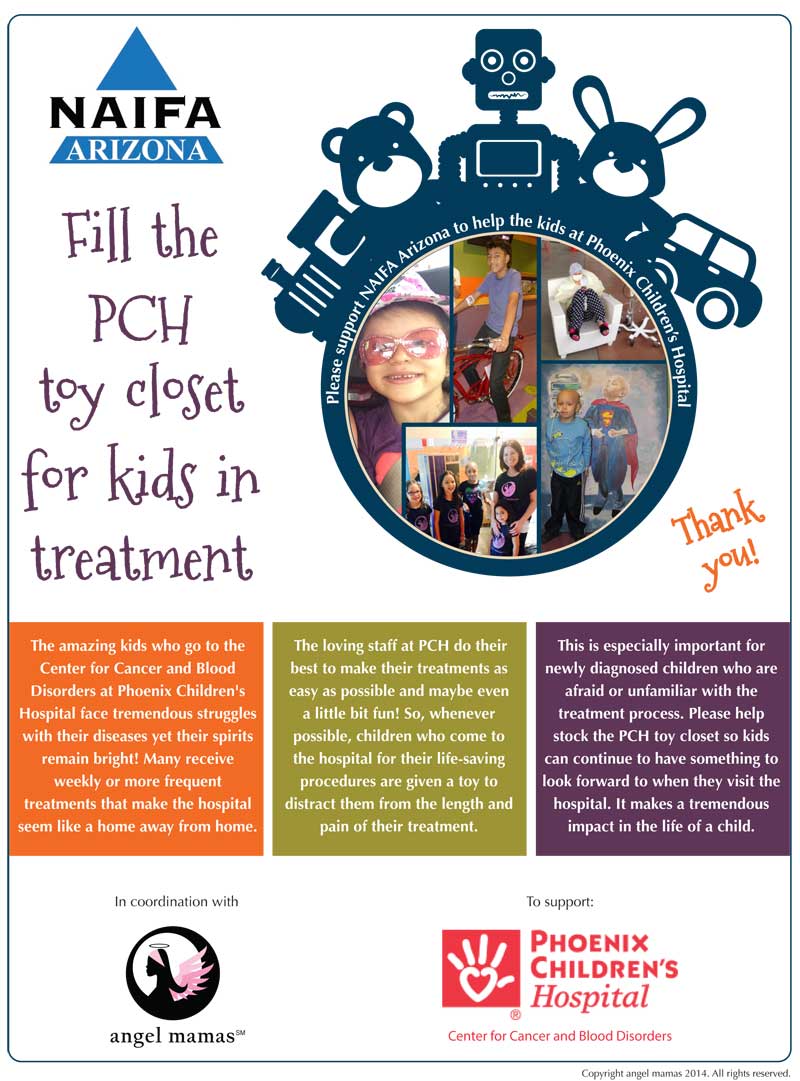 November 17, 2014
October 17, 2014 Click here for the 2013-14 NAIFA Annual Report October 17, 2014 FOR IMMEDIATE RELEASE PATRICIA A. CHESEBROUGH RENEWS CERTIFIED ASSOCIATION EXECUTIVE (CAE) DESIGNATION Washington, D.C., October 16, Patricia A. Chesebrough, Executive Vice President, NAIFA-Arizona was recently renewed as a Certified Association Executive (CAE) with ASAE. Washington, D.C., October 16 – ASAE has announced that Patricia A. Chesebrough, Executive Vice President of NAIFA-Arizona was recently renewed as a Certified Association Executive (CAE).  The CAE is the highest professional credential in the association industry.  Less than five percent of all association professionals have earned the CAE. To be designated as a Certified Association Executive, an applicant must have a minimum of three years experience in nonprofit organization management, complete a minimum of 100 hours of specialized professional development, pass a stringent examination in association management, and pledge to uphold a code of ethics.  To maintain the certification, individuals must undertake ongoing professional development and activities in association and nonprofit management.  Over 4,100 association professionals currently hold the CAE credential.  The CAE program is accredited by the National Commission of Certifying Agencies (NCCA). ASAE is a membership organization of more than 21,000 association executives and industry partners representing 10,000 organizations.  Its members manage leading trade associations, individual membership societies and voluntary organizations across the United States and nearly 50 countries around the world.  With support of the ASAE Foundation, a separate nonprofit entity, ASAE is the premier source of learning, knowledge and future-oriented research for the association and nonprofit profession, and provides resources, education, ideas and advocacy to enhance the power and performance of the association and nonprofit community. October 10, 2014
September 23, 2014
August 26, 2014 September 2014 is Life Insurance Awareness Month! Click on the below for a PDF version: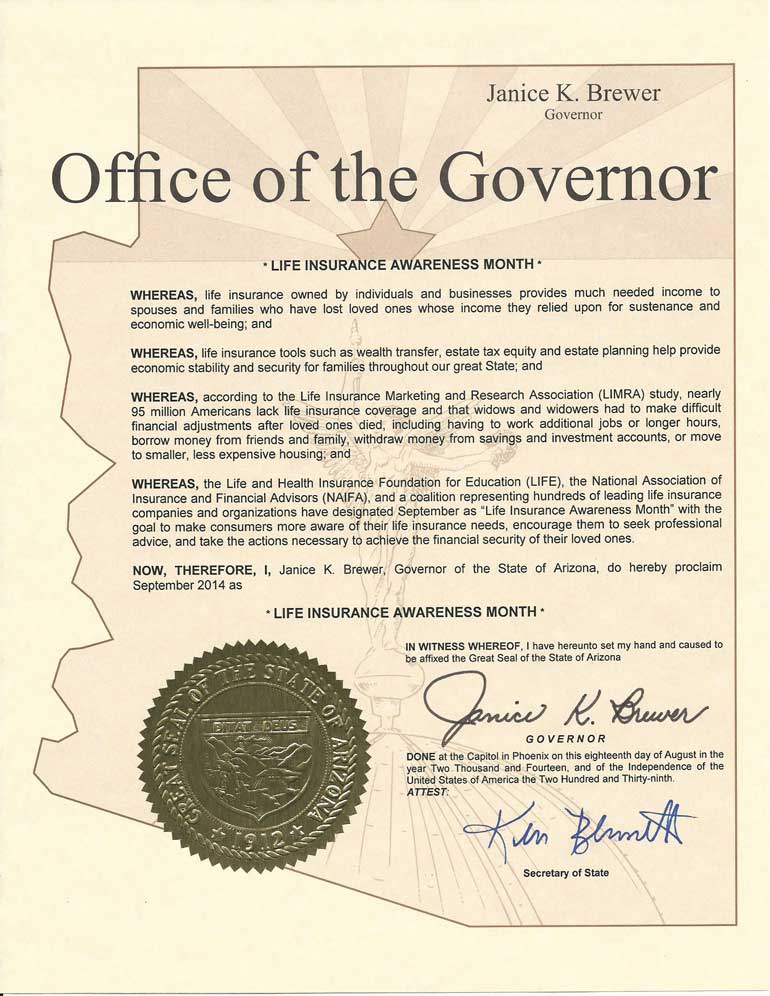 August 25, 2014
August 20, 2014
August 19, 2014 NAIFA-Arizona is pleased to announce that the 2013-14 Association of the Year was bestowed upon NAIFA-Tucson!  Tom Tatro, 2013-14 NAIFA-Tucson President, accepted the award on behalf NAIFA-Tucson during the NAIFA-Arizona 'Area Leadership Conference' on August 15, 2014.  This award is given to the local association, in Arizona, that has demonstrated overall achievement during the most recent association year!  Congratulations, Tucson! NAIFA-Arizona is also pleased to announce that the association that excelled in Community Service activity in 2013-14 was NAIFA-Scottsdale!  Regina Holmes, CLU, ChFC, NAIFA-Scottsdale2013-14 Community Service Chair received the award during the NAIFA-Arizona Area Leadership Conference on August 15, 2014. "The NAIFA-Arizona is proud to announce that NAIFA-Arizon, under the leadership of Tracy Jones, NAIFA-Arizona 2013-14 President, is the recipient of the NAIFA National Jack E. Bobo Award of Excellence.  This award is based on the critical components identified as crucial to strengthening the NAIFA federation and increasing membership. NAIFA-Arizona is one of only two states  to receive the highest honor of Platinum award status.  This is the second year in succession. The award is named in honor of Jack E. Bobo, CLU, FLMI, who proudly served NAIFA as National President and Executive Vice President.  Jack Bobo is also recipient of the prestigious John Newton Russell Award.  Appropriately, the achievement award recognizes associations and their leaders who excel in all facets of association management including Advocacy, Governance, Membership, Programming and Professional Development. The Platinum category places NAIFA-Arizona in the position of having well exceeded expectations and having met/exceeded 100% of national membership goal. Please congratulate Tracy Jones, 2013/14 NAIFA-Arizona President, for leading the association toward this important achievement this past year.   August 19, 2014
August 18, 2014
August 7, 2014
April 14, 2014 We all need to remember that registered reps and advisors can find themselves in hot water with their regulators for a variety of reasons, some of which have no connection to the advisor/client relationship. In recent years, FINRA seems to have gotten more aggressive in pursuing enforcement actions against financial advisors on matters related to whether certain expenses are being properly charged to the firm's credit card. Although FINRA has not recently issued any formal guidance on this issue, it has gotten stricter about filing complaints where it believes personal expenses—such as food, travel and entertainment items—have been charged to the advisor's firm rather than paid for by the advisor. The dollar value of the item in question does not appear to factor into FINRA's decision of whether to file a complaint, and a finding of liability can result in penalties ranging from financial fines to termination of employment by the firm to being barred from the securities/investments industry. With FINRA apparently treating these types of cases with the same level of seriousness as matters involving fraud against a client, all reps and advisors should keep detailed records and pay careful attention to the accuracy of their expense reports. Gary A. Sanders Vice President – Securities and State Government Relations National Association of Insurance and Financial Advisors (NAIFA) 2901 Telestar Court Falls Church, VA 22042 Office: 703-770-8192 Email: gsanders@naifa.org
April 10, 2014
An increasing number of advisors who are involved in investments are moving towards a hybrid type of business structure where clients have a choice of fee-based advisory services or a broad variety of commission-based products. In such a model, the advisor will be dually registered as a registered rep of a broker-dealer and an investment advisor representative of a registered investment advisor. (The latest NAIFA survey exploring this issue showed that roughly one-quarter of NAIFA members are dually registered in this manner.)
The SEC, in an indication of its concern about the "blending" of what had previously been two distinct business models that are regulated by two separate regulatory regimes, has indicated that dually-registered advisors would be a priority of the SEC's National Examination Program and would receive greater SEC scrutiny in the future. Indications are the SEC will focus on which space—advisory program or brokerage account—clients are being directed to, and whether the account type chosen is appropriate for the particular customer or will only enrich the firm without providing meaningful benefits to the client. The SEC will also look at whether "reverse churning" is taking place—is there sufficient account activity and are investors receiving enough services to support the asset-management fees being paid? The SEC is also concerned about whether investors understand the differences between the two types of models.
While we can't predict who or how often a firm will be examined (or even if there will be an actual increase in SEC oversight given the already-stretched SEC budget), thorough disclosure and documentation—of the business models offered, the obligations of the firm under each and the decision making process in selecting an account type—can be very helpful to a firms efforts to justify its activities.
Gary A. Sanders Vice President – Securities and State Government Relations National Association of Insurance and Financial Advisors (NAIFA) 2901 Telestar Court Falls Church, VA 22042 Office: 703-770-8192 Email: gsanders@naifa.org
January 14, 2014
January 14, 2014 NAIFA-Arizona/IFAPAC-Arizona 'Capitol Hill Day'